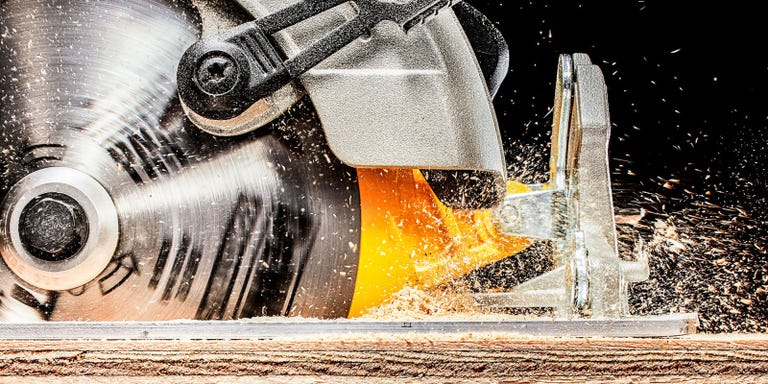 Because everybody's elbow could use a little more rest, we gathered the lightest new corded circular saws on the market. Then we crosscut, ripped, beveled, and cut compound miters with each.
Editor's Choice: DeWalt DWE575
*Score: 5 Stars*
Amperage: 15
Weight: 10.4 lb.
Likes: Professional-grade with unstoppable power and a heavy-duty rubber cord that's robustly mounted to the motor, so you don't have to worry about snags leading to a loose connection. All control points and grip surfaces are well engineered and comfortable.
Dislikes: None.
Best Value: Skilsaw SPT67WM
*Score: 4.5 Stars*
Amperage: 15
Weight: 10.6 lbs.
Likes: A lot of saw and a lot of performance for the money. The Skilsaw is smooth-running with professional power and dead-on accuracy. The price makes it a good fit for anyone who wants to move up in accuracy and power without spending a lot.
Dislikes: None.
Great Durability: Makita HS7600
*Score: 4 Stars*
Amperage: 10.5
Weight: 9.0 lbs.
Likes: A compact and spunky saw that's easy to handle. It has outstanding balance and visibility to the cut line.
Dislikes: Relatively low amperage does cost the Makita some performance during long, deep rips. Plus, the blade wrench likes to come loose from its holder.
Most Compact: Ridgid R3204
*Score: 4 Stars*
Amperage: 12
Weight: 8.8 lbs.
Likes: This feisty little saw was the only tool in our test with a 6 1/2-inch blade. For a framing saw, the Ridgid is extremely compact, which makes it easy to handle.
Dislikes: The blade bevel support obscures the view of the cut line on the shoe. Would be nice if the shoe were a little longer.
Best Light-Duty: Craftsman 320.46123
*Score: 3.5 Stars*
Amperage: 12
Weight: 7.4 lbs.
Likes: Still a consumer saw at an accessible price, but its midrange power is much closer to the professional end of the scale.
Dislikes: Could use a sturdier shoe, and moving the spindle-lock button higher would make it easier to reach.