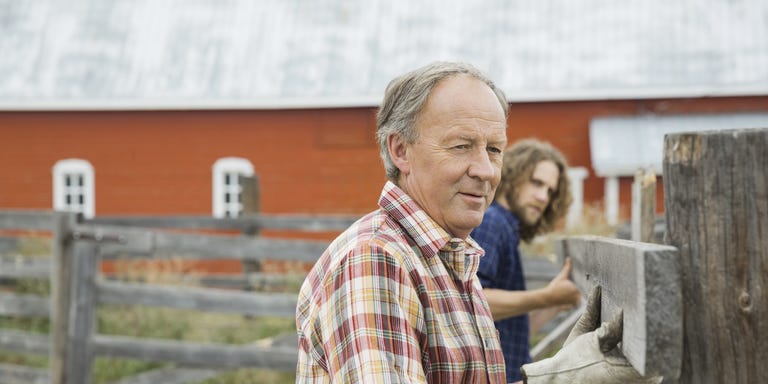 You may know how to set up a wireless router, but can you fix an engine or build a fence. There are lots of DIY skills that seemed common knowledge among our dads and grandfathers, but are now either hired out or no longer deemed necessary. Check out our list—and consider asking your dad to teach you something new on Father's Day.
General woodworking skills (enough to build a treehouse), used to be more common. But now too many of us don't have the tools or the know-how.
How to learn it: Fortunately there are videos to help get us started, an advantage our dads never had. Basic woodworking tools are all you need, as well as a good setup of treehouse plans.
Back in the day it seemed liked most dads and granddads had a working knowledge of the small engines that powered lawnmowers and snowblowers. How to start them and keep them running was a necessary skill, lest your lawn get overgrown or driveway remain covered in snow.
How to learn it: Cordless lawnmowers and outdoor power equipment are catching up to their gas counterparts, and for most homeowners, keeping a battery charged is the biggest hurdle. But, if you are still using a gas mower, check out our mower maintenance guide.
Repairing Broken Electronics
Electric toys and small appliances aren't as durable as they once were, which means we should be more adept at repairing them—but it seems the opposite is true. Opening an electronic device to reconnect a wire is a task your dad wouldn't think twice about, but it seems we're more likely to just toss the thing and buy a new one. That's wasteful and a shame when many small electronics can be easily fixed.
How to learn it: The first step in repairing broken wires and circuits is to learn how to solder. Soldering was once taught in shop classes across the country, but now it's a dying skill. In addition to our guide you can teach yourself from YouTube tutorials.
The proliferation of drive-through oil change shops coupled with the difficulty of accessing the oil filter on some vehicles, has made changing your oil a dirty and tiresome chore. But it also remains a great way to stay in touch with your vehicle and not rely on others to maintain its condition.
How to learn it: You can ask your dad to teach you how to change your oil, or read our guide to change your oil and filter.
Every person should know how to unclog a sink. You never know when a plumbing disaster will strike.
How to learn it: It starts with using the correct type of plunger. Next, learn how to check your p-trap and use a drain snake so you can avoid calling in dad or a plumber for help.
You may love your neighbors, but you also love your privacy. Building and maintaining a fence around your home used to be a common weekend project, but carpentry skills have fallen off so most people bring in the pros for this.
How to learn it: We've got a great set of plans for building a fence, that also includes a cut list and illustrations.
Once you've determined that an interior wall isn't load bearing, removing it is the easy party. Our dads may have relished at the opportunity to swing a sledge hammer, but it seems the current crop of new dads would rather leave the demolition to others.
How to learn it: In addition to a sledge hammer, and pry bar, a reciprocating saw with a multi-use blade, is the best tool for clean demolition.
Replacing an overhead light with a ceiling fan, might seem like tall order. But unlike the old fans your dad would have hung, the newest ceiling fans are pre-wired and pre-assembled which allow you to hang them in minutes.
How to learn it: You'll need a regular and philips screwdriver, wire stripper, pliers, and a voltmeter, to install a ceiling fan.