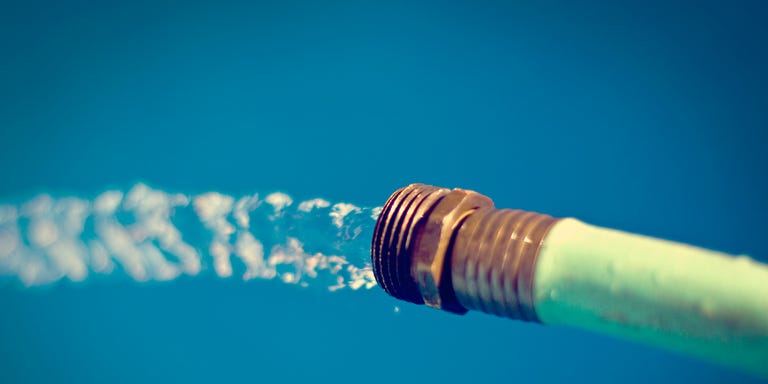 Getty Images
Coen Photography
Garden hoses should be durable enough to withstand years of being dragged across your lawn and driveway, but still remain pliable enough to water the most hard to reach spots. Most importantly, they should never kink. These five garden hoses are built to last and won't let you down.
Grow Green 50 Foot Expandable Hose
This heavy duty expandable hose extends to a full 50 feet from standard water pressure. When not in use, it shrinks to 17 feet for easy storage. It comes with brass fittings and a built-in shut off valve. This black hose claims to not tangle, twist, or kink, ensuring a pleasant watering experience.
Yes, this hose is made of steel. Not entirely, but its outer later is all stainless steel, which provides a puncture-proof barrier that won't kink or twist. It's a unique material for a garden hose, but they offer a 30-day guarantee, if you don't like it, just send it back.
As its name implies, the Flexzilla maintains its bendiness from -40 degrees F to 150 degrees. This makes it easy to maneuver the hose around trees and planters. The Flexzilla is made of hybrid polymer coils that lay flat with zero memory, so you'll always be able to easily coil it up. The entire hose is lead free, which makes it drinking water safe.
Craftsman Premium Rubber Garden Hose
This all-weather garden hose is built to withstand the rigors of all four seasons, which means if left outside it won't deteriorate or breakdown. The crush proof nickel plated brass couplings are sharp looking and a great alternative to the traditional brass look. This hose is made in the USA and Craftsman stands behind it with a lifetime warranty.
Teknor Apex Neverkink Hose
This burly garden hose promises no kinks or tangles and remains flexible down to 45 degrees. The couplings are made of lead-free aluminum that are leak- and crush-proof to endure years of service. A heavy gauge power coil protects the hose at it's base to prevent warping and folding. Available in 50-, 75-, and 100-foot configurations.