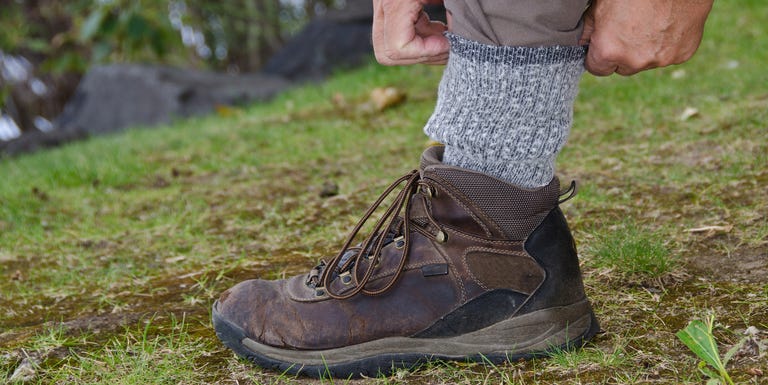 It's tick season, and the best way to protect yourself from these disease-carrying pests, is by wearing full-length tick repellent clothing. These shirts, pants, and socks are treated with a tick and insect repellent to help prevent harmful bites that can lead to lyme disease or other ailments.
(Here are some tips for getting rid of ticks from your own yard, and if you don't have tick-repellent clothing, you can treat your own clothing using a spray-on or rub on tick repellent.)
Gamehide ElimiTick Long Sleeve Shirt
Long-sleeve shirts are a must-have when exploring the woods in the summer. Gamehide's ElimiTick shirt has built-in repellent to make it even more unfriendly to ticks, and the wicking polyester material makes this shirt perfect as an activewear base layer.
Solstice Insect Repellent Pants
These tick-repellent pants also provide sun protection of SPF 40, making them the ultimate pants for exploring the great outdoors. When the weather turns warm, you can zip off the bottoms, but do so only when you're in a tick-free area.
White Sierra Kids Bug Free Tee
These kid-sized shirts are an easy way to protect your family from bugs of all types, including ticks. The shirt is packable without getting wrinkled, which makes it a great travel garment.
Rynoskin Total Insect Repellent Pants
These skin-tight pants can be worn under your normal pants, and provide a protective layer against ticks and other devious bugs that might find their way past your other garments.
Insect Guard Gaiters/Sleeves
These can be used as a gaiter or as sleeves, and are designed to cover up any gaps in your clothing coverage. They come pre-treated with a micro-encapsulated permethrin insect repellent, which will repel ticks, mosquitoes, flies, and ants.
Anti-tick socks can be worn with regular clothes throughout the week. They provide a great extra measure of defense against ticks that may drop in your shoes or fall from your pants.
White Sierra Bug Free Scarf
This tick repelling scarf does an excellent job at protecting your neck and face from mosquitos, flies, and ticks. It's lightweight, breathable, and a fashion-forward way to keep ticks away.
Insect Shield Mesh Tank Top for Dogs
Don't forget your best friend. Ticks are fond of dogs, so help protect your four-legged companion with this mesh tank top that is treated with tick repellent.