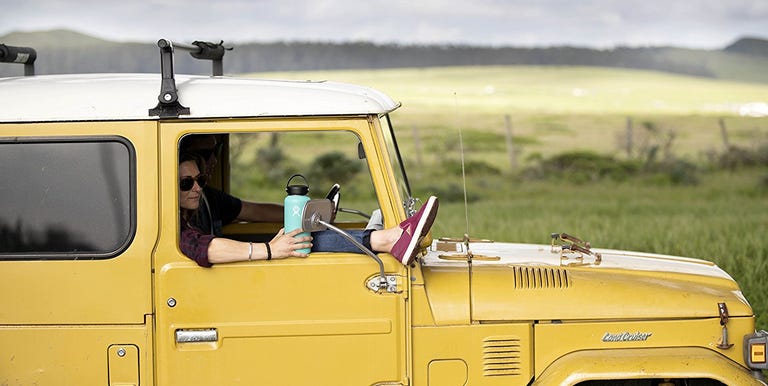 An insulated water bottle, travel mug, or coffee vessel may be all you need for your day to day, but thermos is a must when spending your days in the sweltering heat (or the bitter cold). It will keep hot beverages hot for hours on end (or cold drinks cool), and you'll be able to toss it around without leaks.
Here are 11 different thermoses to consider, from small and lightweight bottles to large, heavy-duty containers.
CamelBak Chute Mag Vacuum Stainless Water Bottle
Keeping your beverage cold for 24 hours and warm for 6 hours, Camelbak's Vacuum Stainless Steel water bottle is beloved by Amazon customers, scoring a 4.4 stars out of 5. It's magnetic cap helps easily stow the cap while drinking. It's daylong cool makes the bottle perfect for hikes, while its cap design maybe isn't the best for hotter liquids.
Klean Kanteen Wide Mouth Coffee Mug
But if its hot liquid like coffee you crave, Klean Kanteen design this wide mouth vessel for just that purpose. Holding heat for up to 10 hours, the bottle's wide cap is perfect for coffee, easy to clean, and seals up for leak proof peace of mind. It also doesn't hurt that it comes in 15 different colors.
Thermos' name is synonymous with, well, thermoses, and it's hardly surprising that its many insulated containers remain among the bestselling and highly-rated. The 40 ounce Work Series Thermos is one of the company's more heavy-duty models, which promises to keep drinks hot or cold for up to 24 hours and also to tough jobsite conditions. If you don't need quite that level of durability, you can save a bit with the standard Stainless King model.
Zojirushi Stainless Bottle
There's no shortage of people who by Zojirushi's insulated water bottles, and the company's larger bottles and containers are equally well-regarded. This one is an ample 68 ounces with a large mouth opening, making it easier to clean than narrower thermoses. You'll also get a collapsible handle and a carrying strap for easy transportation.
Stanley Classic Vacuum Bottle
Another of the most time-tested thermoses around, Stanley's Classic Vacuum Bottle is available in a range of sizes (and two different colors)—all of which come with a lifetime warranty and the same rugged design. The standard 1.1 quart container promises to keep drinks hot or cold for up to 24 hours (other sizes vary slightly), and the 8 oz insulated lid will hold a decent sized cup of coffee.
YETI's gear can be pricey, but the company promises that you'll get your money's worth. The 64 ounce bottle is the largest in the company's Rambler line and has a wide mouth to make pouring (and cleaning) easy. The real selling point, however, is the Rambler's durability, which YETI says will hold up in the harshest conditions.
Hydro Flask's Wide Mouth series runs the gamut from personal-sized 18 ounce bottles all the way up to large 64 ounce containers. While they won't give you quite the same heat retention capabilities of heavier-duty thermoses, they'll still keep beverages hot for up to six hours (or cold for 24), and they're lightweight, durable, and available in several colors.
MiiR's smaller wide-mouth bottles can serve you well as an everyday water bottle, but the company also produces a larger version that's more thermos than bottle. It's available in your choice of three different powder-coated colors, and promises to keep beverages hot for 12 hours or cold for 24 thanks to its double-walled design and so-called Temp Deflector lid.
L.L. Bean Stainless Steel Vacuum Bottle
You can find cheaper thermoses, but if you just want a small and simple stainless steel one you likely won't be disappointed with L.L. Bean's 24 ounce bottle. It comes with what the company describes as " unbreakable, double-walled construction" that will keep drinks hot or cold "for hours." As a bonus, you can also take advantage of L.L. Bean's engraving service if you're giving one as a gift.
With the Food Flask, Hydro Flask's minimalist design is on full display, but don't let its simple look fool you. This flask keeps things cold or hot for three hours and even longer if you can squirrel away this guy inside a cooler. This means you can prep your hot stew in the morning and still have a warm meal by the lunch time. But be sure to remember that the Food Flask is not microwave safe.
Thermos Stainless King Food Jar
You can use any thermos for soup or another hot lunch, but if you're regularly doing so you may be better off with a more purpose built container like Thermos' Stainless King Food Jar. It'll keep your meal hot for up to 12 hours (or keep things cold for up to 24), and you'll have an easier time both filling the container and eating or drinking from it, whether it's straight from the thermos or from the insulated lid that doubles as a serving bowl.